Post # 206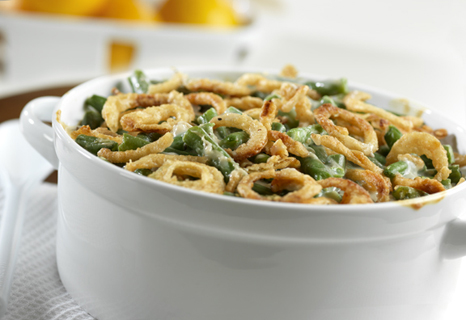 I'm still thinking about the upcoming Thanksgiving meal. Those of us here in the United States are familiar with the green bean casserole most of us serve on Thanksgiving. I love it! In case you haven't ever had it ...where have you been? ....I will post the recipe from the Campbell's Soup Company at the bottom .... but first something that tickles my funnybone that my grandson said...
Even left over the next day I think this dish is wonderful but it does take on kind of a gray color, uh, just not the most attractive dish right out of the refrigerator. Warm it in the microwave and it tastes great, just don't concentrate on it's looks. When my grandson was 2 yrs old it was a day or two after Thanksgiving and I had pulled out all the leftovers
and had them on my counter. I was holding him in my arms and pointing to different dishes and asking him if he wanted some of that on his plate. When I pointed to the leftover green bean casserole he got this wary look on his face...eyes just llike the Precious Moments kids....and he slowly shook his head and said very seriously "Ohhh, my momma told me don't EV-A put that in my mouth!" Where he got that nobody knows, or what he thought it was! That story is one of those in my "bee happy" notebook of things that make me chuckle.
Here is the recipe from the Campbell's Soup people...
1 can (10 3/4 ounces) Campbell's® Condensed Cream of Mushroom Soup
1/2 cup milk
1 teaspoon soy sauce
Dash ground black pepper
4 cups cooked cut green beans
1 1/3 cups French's® French Fried Onions
Stir the soup, milk, soy sauce, black pepper, beans and 2/3 cup onions in a 1 1/2-quart casserole.
Bake at 350°F. for 25 minutes or until the bean mixture is hot and bubbling. Stir the bean mixture. Sprinkle with the remaining onions.
Bake for 5 minutes or until the onions are golden brown.